There are two ways of getting rank/appeared/indexed on a search engine result page. One is Organic SEO which contains lots of optimization techniques on off-page and on-page which also takes unpredictable time and the other is Paid SEO which does not demand your precious time but you have spent money while doing paid SEO activities. So, let's have a look what's the difference between Organic SEO and Paid SEO and what the meaning of term called SEM.
Organic SEO:
Getting ranked on SERP by optimizing your webpage according to the latest algorithm updates is called Organic SEO. Unpaid Search Engine Optimization Techniques include on-page and off-page strategies can be done on different WebPages across the site gives long term results and high-quality traffic and audience. A top-ranked website with good optimization gain trust of the users and they will spend more time while browsing your site. Once you gain the traffic on your website from different traffic sources and most importantly from search engine result will get ranked for a long period of time. Maintaining your content updated and useful is one the biggest factor in ranking your web page on no.1. Basically, Organic SEO is best for long term results in low cost but some of the people or companies want faster result where organic SEO does not able help in these situations and it also can difficult for those who are new in digital marketing.
Paid SEO: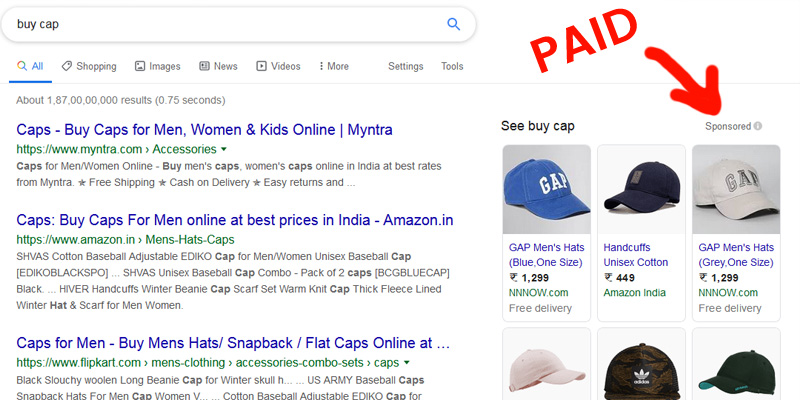 Getting your website named of the first result on Search Engine Results Page by paying an amount of money to search engine is called Paid SEO. There are some tools or mediums available to create or manage your ad campaigns and also provides secure gateway payment transfer for a user to search engines like Google Adwords or PPC (Pay Per Click). Adwords is Google's own product and it's the only tool to manage or create ads if you are working paid advertisements on Google. Most, you may have thinking about how much money should they have to pay on Adwords to get their website on no.1 that's depends on the competition and their bidding. You just have to bid more than your competitors are doing and organize your ads and extensions for results. There are some benefits of Paid Advertising on Google:
No Waiting: Lightning fast results based on your bid strategy.
Targeted Users: You can target your audience to convert queries into more leads.
Brand Awareness: Google Adwords is one of the best way to promote a new brand online.
Some Disadvantages of Paid SEO:
Heavy Costing: If you have no idea about bidding and competitors, you may have to spent too much money for results
Limited Results: Paid SEO, gives you results while you are running a campaign and paying money to search Engine and after running out of your budget your site will disappear like it's never been there.
May give you no result: Running a search engine ad can help you show up the result page instantly but it does give any guarantee of leads or business